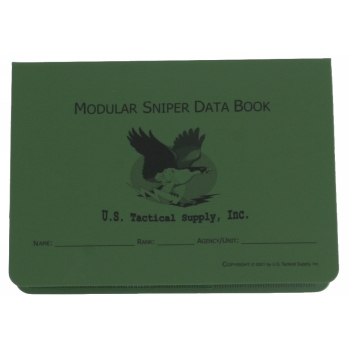 The Modular Data Book is made from Mil-Spec materials and construction. It is Printed on 20 lb. bond, tactical green "Rite-in-the-Rain" paper. The Binder is a six ring polydura plastic for easy data organization and retention. The six ring binder also allows the operator to design the book to meet his mission specific needs. Data Section contains formulas, conversion tables, and charts on range estimation, wind, moving targets, angle fire, Mildot hold off's, Ballistic tables and more. Data sheets for zero summaries, cold bore shots, zeroes, bullseye, stationary, unknown distance, and moving targets. Various mission sheets and a barrel log included. For 5.56, 7.62 mm NATO/.308, .300 Win. 338 Lapua, & .50 Cal rifles. Features:

•Refillable Data Sheets for Stationary Targets, Moving Targets, & Alpha Data

•5.56, 7.62, 300WM, 338LM, & .50 Cal information

•Ballistic Tables, Range Come Ups, Wind Tables, & Mildot Hold Off's with 200m & 500m Zero's

•Compact field proven Six Ring Cover design, with tabs for instant access to selected information. Data is easily changed in format or size to meet mission specific requirements.

•Also includes Conversion Tables, Formulas, Rules, Guidelines, Angle Fire, Wind, Range Estimation, Target Dimensions, Zero Summary, UKD, Cold Bore & Barrel Log.

•Example Sheets for Range Cards, Overhead, Panoramic & Target Sketches.

•Printed on "Rite in the Rain" paper.

•Designed in Conjunction with Michael Haugen, CW3(R) US Army Special Forces.



Items marked "(R)" No Export, No Paypal, NO EXCEPTIONS




Contact Us:
Email: optactical@yahoo.com
Shop Phone: 919-818-3649
Curbside Pick Up Phone: 919-594-1579
Address: 2533 Atlantic Ave, Suite 103, Raleigh, NC 27604

Phone Hours: Monday-Friday, 8am - 4pm Eastern Time (ET)
Local Pick Up Hours: Monday-Friday, 10am - 3pm
Online Sales Ship As Per Normal
Walk-In Store Closed For Renovations

Shipping:
Online Orders Normally Ship in 1-2 Business Days, Expect Slight Delays During Sale Periods.
$7.95 Standard Shipping to any US or APO/FPO Address!
International Shipping is Available to Select Countries
UPS Shipping Options: Orders must be placed by NOON Eastern Time (ET) to ensure they go out the same day.
Orders are not processed on the weekends.

Verified Service Disabled Veteran-Owned Small Business, we accept GPC Cards and Government Contracts
CAGE: 5MU18 / DUNS: 361562593 / SDVOSB: 253753