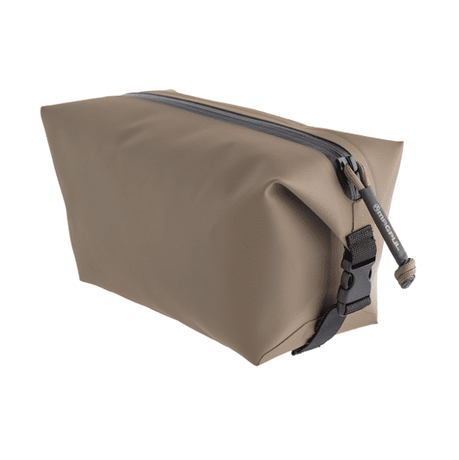 The DAKA Take Out is a durable, weather resistant, 3.5-liter kit bag that's perfect for most indoor and outdoor activities. It's a great option whether you're heading to the range, storing things on your boat, traveling and in need a dopp kit, or organizing and transporting your tools. What you use it for is limited only by your imagination.

Easily access your gear through the full-length water repellent zipper and, for larger items, release the two quick release buckles for a taller and wider opening. Both buckles also double as handles for easy transportation. In the event you want to securely hang the Takeout, simply release one of the quick release buckles, loop it around the object you want to secure it to, and re-attach the buckle.

Like all our DAKA products, the Takeout is made from polymer-infused textiles that are RF welded on every seam. It also incorporates our famous water-resistant YKK AquaGuard® zipper to ensure security. The construction methods and materials used in the DAKA line mean that our storage solutions are at home in a variety of hard-use outdoor applications, yet they're stylish enough to be front and center in your vehicle or office.

REINFORCED POLYMER FABRIC
• Made of reinforced polymer-infused fabric with anti-slip texture for secure handling
• Strong RF welded construction that creates permanent, impenetrable seals
• Chemical resistant and non-hygroscopic

MULTI-FUNCTION QUICK RELEASE BUCKLES
• Buckles provide a secure connection wherever you hang the Takeout and also act as a carrying handle
• FDE Magpul DAKA Takeout end view with buckled straps that can also act as carry handles

550 PARACORD & HEAT SHRINK TUBING FOR ENHANCED GRIP ON AQUAGUARD ZIPPER
• Rugged but easy to open and close zipper

Tech Specs:
• Zipper length: 11.5 in.
• External height: 6.25 in.
• External width: 4.0 in.
• External length: 7.75 in.
• Internal volume: 3.5L

EXPORT NOTICE: This is an item controlled for export by the Export Administration Regulations (EAR) under the Commerce Control List (CCL). These controls take the form of export regulations and license requirements. As part of the express consideration provided for receipt of Magpul's goods, technical data and/or services, you, our customer, acknowledge that the export, re-export or other transfer, directly or indirectly, of the goods, technical data and/or services provided by Magpul in violation of U.S. law is prohibited. Customers acquiring controlled goods, technical data and/or services from Magpul shall be responsible for obtaining any necessary U.S. or other government authorization required to ensure compliance with applicable export laws.



25% Off Salomon and Lowa, 30% Off Altama Footwear Sale!
Items marked "(R)" No Export, No Paypal, NO EXCEPTIONS




Contact Us:
Email: optactical@yahoo.com
Shop Phone: 919-818-3649
Curbside Pick Up Phone: 919-594-1579
Address: 2533 Atlantic Ave, Suite 103, Raleigh, NC 27604

Phone Hours: Monday-Friday, 8am - 4pm Eastern Time (ET)
Curbside Pick Up Hours: Monday-Friday, 10am - 3pm
Online Sales Ship As Per Normal
Due To High Order Volume, Expect Slight Shipping Delays
Walk-In Store Closed For Renovations, Curbside Pick Up Available

Shipping:
Online Orders Normally Ship in 1-2 Business Days, Expect Slight Delays During Sale Periods.
$7.95 Standard Shipping to any US or APO/FPO Address!
International Shipping is Available to Select Countries
UPS Shipping Options: Orders must be placed by NOON Eastern Time (ET) to ensure they go out the same day.
Orders are not processed on the weekends.

Verified Service Disabled Veteran-Owned Small Business, we accept GPC Cards and Government Contracts
CAGE: 5MU18 / DUNS: 361562593 / SDVOSB: 253753