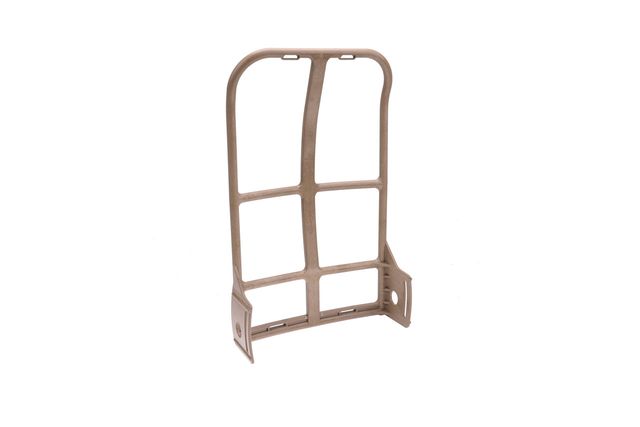 The polymer fiber PALICE backpack frame is a modern alternative to the traditional aluminum frame used in military backpacks. It is made from a lightweight and durable polymer material that provides excellent support and stability for heavy loads. The frame is designed to fit the ALICE (All-Purpose Lightweight Individual Carrying Equipment) backpack system, which is used by the United States military.

One of the key benefits of the polymer fiber PALICE backpack frame is its lightweight design. Unlike traditional aluminum frames, which can add significant weight to a backpack, the polymer fiber frame is much lighter and more flexible, making it easier to carry heavy loads for extended periods of time. Additionally, the frame is resistant to corrosion and other types of damage, ensuring that it will last for many years of use.

Overall, the polymer fiber PALICE backpack frame is a high-quality and innovative product that offers many advantages over traditional backpack frames. Its lightweight design, durability, and flexibility make it an excellent choice for military personnel, hikers, and anyone else who needs a reliable and comfortable backpack for carrying heavy loads over long distances.

We have tested the product with a traditional ALICE pack and modern ALICE style ruck. We were able to support over 280lbs (127kgs) without failure of the frame. We have thrown it around, jumped on it and even bent as far as we physically could. Through this testing we have not only had no failure but the frame returning to its normal shape after bending.

Dimensions:
• Length: 20.5 in (52.07 cm)
• Width: 12.5 in (31.75 cm)
• Depth: 4 in (10.16 cm)
• Weight: 1.5 lbs (0.69 kgs)

UPS SHIPPING OPTIONS ONLY. No $7.95 Flat Rate for this item (due to the size of item).



Items marked "(R)" No Export, No Paypal, NO EXCEPTIONS




Contact Us:
Email: optactical@yahoo.com
Shop Phone: 919-818-3649
Curbside Pick Up Phone: 919-594-1579
Address: 2533 Atlantic Ave, Suite 103, Raleigh, NC 27604

Phone Hours: Monday-Friday, 8am - 4pm Eastern Time (ET)
Local Pick Up Hours: Monday-Friday, 10am - 3pm
Online Sales Ship As Per Normal
Walk-In Store Closed For Renovations

Shipping:
Online Orders Normally Ship in 1-2 Business Days, Expect Slight Delays During Sale Periods.
$7.95 Standard Shipping to any US or APO/FPO Address!
International Shipping is Available to Select Countries
UPS Shipping Options: Orders must be placed by NOON Eastern Time (ET) to ensure they go out the same day.
Orders are not processed on the weekends.

Verified Service Disabled Veteran-Owned Small Business, we accept GPC Cards and Government Contracts
CAGE: 5MU18 / DUNS: 361562593 / SDVOSB: 253753