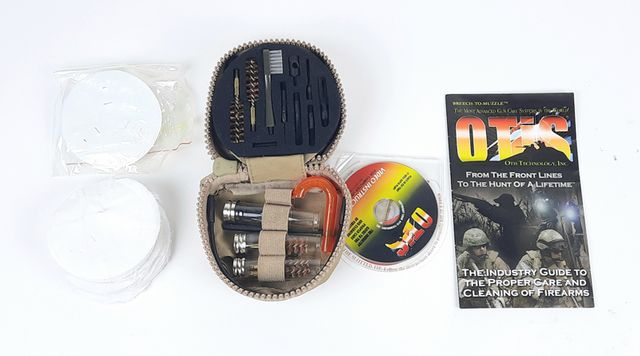 Designed for the soldier issued more than one weapon in the field, this cleaning kit properly cleans 5.56mm & 7.62mm rifles, 12 ga shotguns and 9mm-.45cal pistols/subguns. Carry one cleaning kit with the confidence that all your weapons are covered. Made in the USA and contained in a lightweight, compact softpack case.

Details:
- Cleans 5.56mm and 7.62mm rifles, 12 gauge shotguns and 9mm – .45 cal. pistols/subguns with 100% cotton 3" cleaning patches and small, large and shotgun slotted tips and small and large patch savers®

- 8" and 30" Memory-Flex® cables for effective and correct Breech-to-Muzzle® cleaning ( second 8" cable permanently affixed with additional slotted tip) T - Thread Connector for cables

- Six firearm specific bronze bore brushes with size marked on brush stem (5.56mm,.30cal, 9mm, .40cal, .45cal, 12ga)

- Large and small obstruction removers knock out mud, snow, stuck casings and double as a t-handle base for included t-handle

- Pistol T-handle base/obstruction remover

- Pin punch, end brush, scraper, straight & bent pick, locking lug scraper, short AP brush and rod handles for more precise cleaning

- Also includes chamber flag & instruction manual

- All items packed neatly in a 4"x4"x2.5" soft pack case with belt loop attachment

- No Nonsense Warranty

- Berry Compliant

- Made in the USA

All items pictured come with this system. There is NO CLP. There are NO small patches. this system is brand new, never used, shelf stored for about 5-10 years. This system is no longer made by Otis, and product descriptions are not available, after looking closely through it, this description matches as much of the included items as possible, there are also others not listed included.



Items marked "(R)" No Export, No Paypal, NO EXCEPTIONS




Contact Us:
Email: optactical@yahoo.com
Shop Phone: 919-818-3649
Curbside Pick Up Phone: 919-594-1579
Address: 2533 Atlantic Ave, Suite 103, Raleigh, NC 27604

Phone Hours: Monday-Friday, 8am - 4pm Eastern Time (ET)
Local Pick Up Hours: Monday-Friday, 10am - 3pm
Online Sales Ship As Per Normal
Walk-In Store Closed For Renovations

Shipping:
Online Orders Normally Ship in 1-2 Business Days, Expect Slight Delays During Sale Periods.
$7.95 Standard Shipping to any US or APO/FPO Address!
International Shipping is Available to Select Countries
UPS Shipping Options: Orders must be placed by NOON Eastern Time (ET) to ensure they go out the same day.
Orders are not processed on the weekends.

Verified Service Disabled Veteran-Owned Small Business, we accept GPC Cards and Government Contracts
CAGE: 5MU18 / DUNS: 361562593 / SDVOSB: 253753